Online Counseling—Virginia
When it comes to your mental health and emotional well-being, it is important to find a therapist who you connect with in order to get the most from your therapy sessions. Once you've found the psychologist or counselor you connect well with, don't let relocation re-start that complicated cycle. At Symmetry Counseling, we offer tele-health therapy sessions to Virginia residents so you can enjoy private, confidential counseling anywhere you have an internet connection.
What Is Online Counseling?
Thanks to the advancements in technology, you can now meet with a psychologist or therapist virtually with the same amount of privacy you would enjoy at our offices. Through the platform Zoom, we can offer virtual counseling that is secure, private, and HIPAA and PHI compliant. Ultimately, this means you can trust your therapy sessions will be private and secure, just as they would be in-person, but you can meet with your therapist anywhere you can take your computer and get online. This way, you can skip waiting rooms and help avoid cancellation or no-show fees but still meet with your preferred psychologist or counselor.
How Tele-Medicine Sessions Work
Think of it rather like Skype or FaceTime, but with more privacy. Zoom was designed to make live video meetings an easy way to connect, but protect your confidential information as if you were meeting with your therapist in their office. The platform works with both Mac and PC computers as well as iOS and Android tablets and phones. With this virtual connectivity, you can meet with your therapist and skip over the waiting room and travel times. Just grab your laptop or tablet, find somewhere private, and log in to your account.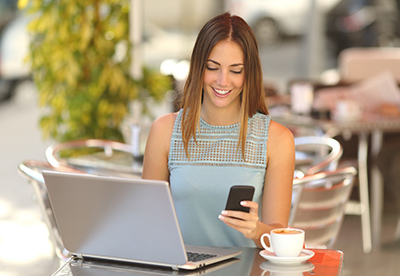 Who Needs Virtual Counseling?
Meeting with your therapist via Zoom is not restricted to only some of our clients. Anyone who wishes to can request virtual counseling in place of in-person sessions. Some who find tele-health sessions beneficial include clients who:
Struggle with social anxiety or mobility issues – you may get more from each counseling session when you are comfortable, not stressed out, so meet your counselor wherever suits you best.

Travel a lot – whether you need one virtual counseling session because of a trip or you travel regularly for business, tele-health allows you the flexibility to meet with your therapist wherever you are.

Have packed schedules – many of our clients have time to meet over the lunch hour, but lack the time to travel to our offices, have a full session, and get back to work. Instead, find a quiet place and meet with your psychologist or counselor virtually to save time.

Rural or out-of-state – as long as you are a resident of the state of Virginia, we can arrange counseling sessions online, regardless of where you are, so you don't need to worry about traveling a long distance for every session.
Will Insurance Cover Online Counseling?
It might! You will need to check your insurance policy individually, but many insurance providers do offer coverage for tele-medicine just as they would in-person sessions. Symmetry Counseling is happy to accept most insurance, if your policy provides that coverage, or self-pay if that is how you prefer to cover your therapy sessions.
If you are a resident of Virginia, meet with a counselor in the way that works best for you. Contact the team at Symmetry Counseling today to learn more or schedule your first virtual counseling session.